I have learned how to sail from my father when I was a child…
It has always been the summer holidays activity that we would attend togather with my family of two sisters, mom and dad. Again and again, for many consecutive seasons we have been cruising on quite famous Polish lakelands of Mazury and Ilawa. Couple times, in the later times we have set the sail of the coast of Baltic sea in Poland and Sweden, in the lovely archipelago near Stockholm. In my tee nage times I became an inshore captain (accompanied with a Polish 'Inshore Skipper' licence) several times taking a girlfriend or group of friends and for a little summer cruising adventure.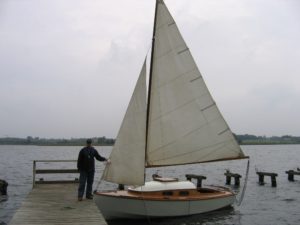 For a while, with my father, we owned a beautiful plywood 5 meters cruiser on a lake nearby my hometown. It was there available to sail anytime I felt and I did take advantage of this fact numerous times sailing all the way up and down the small basin. The boat happened to have no engine so it was great opportunity to learn how to really manouvre a boat, while entering the marina on sails or heaving-to for a cup of tea and a snack.
These great experiences rooted the love for boats, understanding of wind deeply in my consciousness. This is where I have learned how important it is to pay attention to every little detail and to not leave things for later, to keep the boat tidy and stay in good vibration with your crew which may be on a boat for the first time in their lifes…